How it works
Once you get things set up with Printaura, running your own online shop is a breeze! We take care of all the printing and shipping for you! All you need is a great design and the desire to profit from it. Just leave the rest of it to us. Get t-shirts and custom printed products dropshipped with no minimums or membership fees.
Printaura Makes Selling Online Easy!

You Make A Sale
A customer buys something from your store, and you get paid!
We Get The Order
Printaura is automatically sent the order and customer info.
We Print & Ship
We prep, print, and ship the order to your customer under your brand.
You Relax
You sit back and enjoy the rewards of your success knowing everything is being taken care of!
The Printaura Advantage
With Printaura You Will Enjoy:
No Minimums
You only pay for the items you sell.

Complimentary Tracking
We send your customer tracking info for their order so they will always know where their package is.
No Membership Fees
It's completely free to join and use Printaura's Services.

Custom Branding
We offer many custom branding options to create the illusion that you are doing all the hard work.
Sign-up for a free account with Printaura
Join 15000+ members of Printaura. It is quick, easy and free. Signup takes just 2 minutes
Register Now
Easy integrations with e-Commerce carts
Automate fulfillment by using one of our integrations with popular e-commerce platforms. The integrations are easy to install and do not require a technical background. Many integrations can be setup within minutes. Once setup you add/edit products in Printaura and they will appear in your store. When your customers make a purchase the orders are automatically sent to Printaura and we print/ship under your brand.



Don't see your platform? Not to worry! We have an easy form to submit your orders manually. It's quick and easy!



Are you a developer? Oh good, we have an API to integrate with your website to automate fulfillment.
Create a product in Printaura and it will appear in your store
Select from over 100+ products
T-Shirts, Hoodies, Mugs, Posters, Hats, Phone Cases, Pillows and More.
View all our products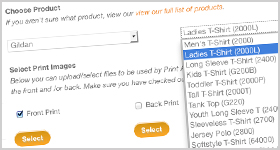 Choose Colors and Set Prices
For products like t-shirts you can choose which products you want to offer each design in. Set your prices to whatever you want.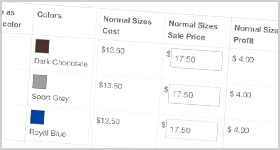 Add your art to products
Select from your images you uploaded on Printaura. Create mockups using our mockup tool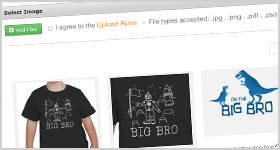 Prep your artwork and mockup files
Prep your art files
It is important that your print files are sized to print and high quality. We print the file just like provided and to get what you want make sure to follow our guidelines.
View our Image Requirements

Create some mockups
Our mockup tool features professional photos of products you can use to
create your own mockups.
Simply upload your artwork, size the art, choose the products and colors.

Setup Your brand
Configure Your Return Label
You can configure your return label to have your business name. You can use our address with your business name or your own address.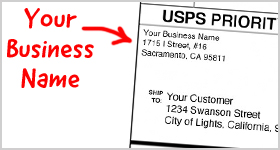 Configure Your Packing Slip
You can upload a logo, add customer service related information like your email or phone number. You can also add a custom message that appears at the bottom of all your packing slips.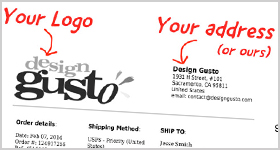 Setup Custom Neck Labels
This is a premium service and takes a bit longer to setup but we do it! You send us the labels and we will heat press them into the back of the shirt neck.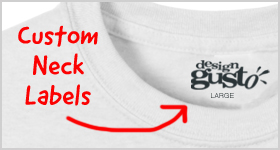 We Print/Ship under your brand
If you are using one of our apps or API your orders will automatically be sent to Printaura when purchased by your customers. Printaura will automatically bill you for the order and will start processing your order. Orders typically take 3-5 business days of processing and then are shipped directly to your customers.




Ready to Build Your Brand?