Our service requires that you provide correctly sized and formatted artwork. We do not resize artwork to match mockups as part of our service. Below you will find information about size, resolution, file format, and tips on preparing your artwork. Incorrectly formatted artwork may result in delays in order processing.
General File Requirements
Please check out our general file requirements below. These requirements apply to all of our products unless otherwise noted on the product specifically.
Print File Types
We accept .PDF, .PSD, .PNG*. Make sure all files are single layered with outlined fonts and have a transparent background
PNG files are accepted but they can't be saved in CMYK so there can be some color shifting when we convert them to CMYK before printing. 
Color Profile
All apparel and posters are printed in the CMYK color profile. When setting up your file make sure it is in CMYK rather than RGB. The reason for this is that a CMYK printer is not able to print all the colors in the RGB color space. All phone cases are printed in RGB.
Resolution
All garments are printed at 300 DPI. Any images that are NOT 300 DPI are not guaranteed for final size. If your image is only 200 DPI our machines may reduce the size of your final print.
Merge Layers
When uploading .PSD files, please make sure that all of your layers are merged before uploading artwork. If your layers are not merged, your image will be uploaded as only one layer, and not the entire image. Do not flatten artwork if you desire transparency to remain intact. For more information please see our merge vs flatten video below.
T-Shirt Templates
Apparel
You can upload the template image with or without trimming the transparent background. Using the 12×16″ template as an example if you filled up the ENTIRE template your design would print at 12×16″. If you filled exactly half your image would print at 6″x8″ so the blank area doesn't actually get printed. Files are print AT the size provided. We do not resize artwork based on the size of the garment.

* Note: We can not print oversized prints on the front of hoodies, any kids, any baby, or  women's sizes.  Jumbo prints cost an additional $2.25 per print.
Hoodies
Pocket Prints
Mugs
Aprons
| | | |
| --- | --- | --- |
| Style | Resolution Requirement | Standard Front Print |
| 2 Pocket Apron | 300 DPI | 9″ W x 9″ H |
Bags
Phone Cases
Posters
| | | | |
| --- | --- | --- | --- |
| Poster Size | Full Bleed Pixels | Full Bleed Doc | Template |
| 8 x 10 | 2565 x 3165 px | 8.55″ x 10.55″ | Download |
| 12 x 12 | 3750 x 3750 px | 12.5″ x 12.5″ | Download |
| 12 x 16 | 3750 x 4950 px | 12.5″ x 16.5″ | Download |
| 12 x 18 | 3750 x 5550 px | 12.5″ x 18.5″ | Download |
| 16 x 20 | 4950 x 6150 px | 16.5″ x 20.5″ | Download |
| 18 x 24 | 5550 x 7500 px | 18.5″ x 24.5″ | Download |
| 24 x 36 | 7350 x 10950 px | 24.5″ x 36.5″ | Download |
Pillows
Mockups
View our Mockup Tool
We recommend that you provide us with mockups of how you envision your t-shirt designs to look on the shirt. These are largely used for location and also know if there is an issue with the size of your image. A mockup is not required, if no mockup we will place the graphic in standard location for t-shirt designs.
Guide to creating mockups
Design Tips
What is the difference in size between standard and jumbo printing?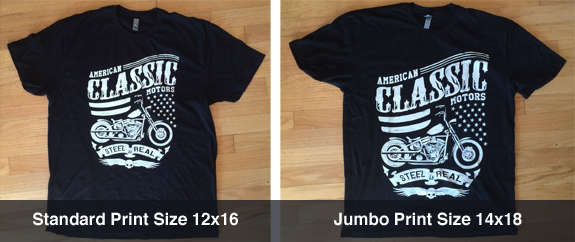 Do you print white? 
We only print the color white on non-white garments. So on black, blue, red etc. we print a white. We actually print a white under base and then print the color on top.  On white garments we DO NOT print white, it is stripped and the white comes from the white shirt showing.
What does NO UNDERBASE mean?
On all non-white garments we by default print a white underbase before printing the color layer. Some clients are going for a certain look with their printing and don't want us to print a white underbase. Below is a comparison of the vibrancy of the colors when using/not using an underbase. We do not guarantee the results when you choose "no underbase" as they are many variables that can result in varying results. Feel free to try some tests but understand they are tests based on your design, the shirt color and your design colors.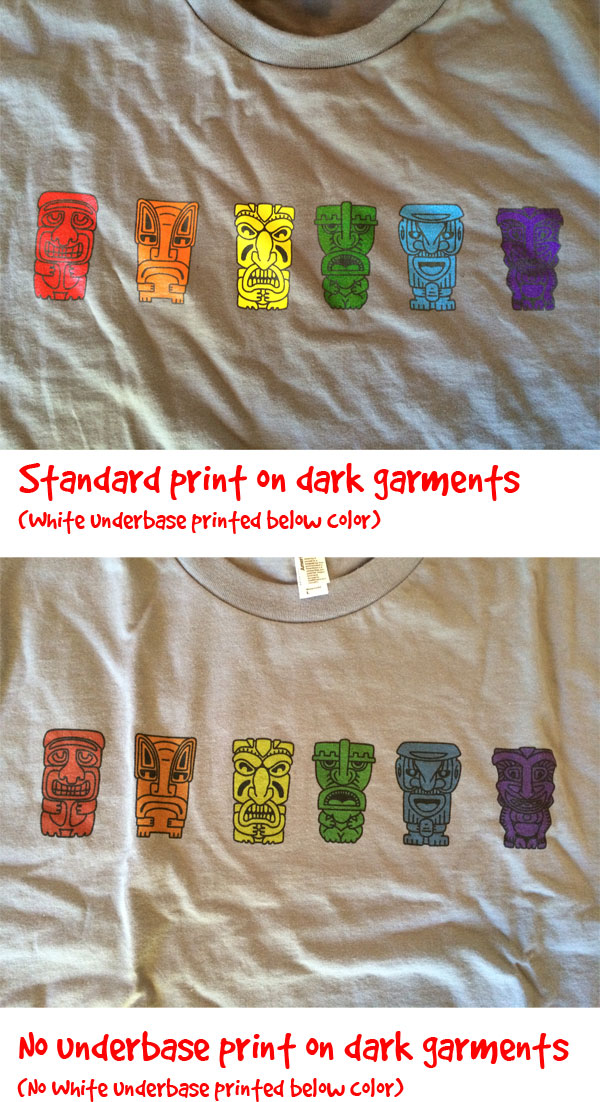 Print Locations
We offer front and back printing on most t-shirts in standard print locations. We currently do not offer sleeve printing or printing across seams. On v-neck designs we currently only print below the V even on the back of the t-shirt to ensure a flat surface for printing. For hoodies, we print on the front above the pocket and on the back above the front pocket.
Where can you print and about how big is it?
Try our mockup tool get a rough idea of how big your image will be.
How big should I make my design?
Well, good question…as big as you want it under 12″x16″ but here is a handy tip we use here to get a visual idea of how big a t-shirt design should be. If you lay down your favorite t-shirt and then take a regular 8.5″11″ piece of paper and lay it down on the shirt. You can even rotate it to get an idea of how big 8.5″ or 11″. Many t-shirt designs are somewhere between that 8″ and 11″ width depending whether your design is text or some other graphic.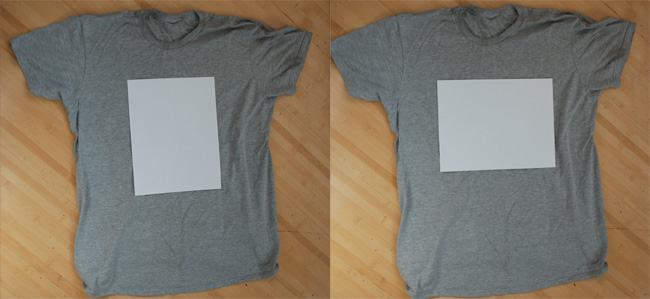 Design Contrast
Make sure your design has enough contrast between colors. Dark colors next to colors don't look the same as they may on your backlit computer screen. In the example below, the colors in contrast to the black outlines are quite viewable but as you can see the darker purple just doesn't pop like the other colors. A better solution would be a lighter purple to make sure the color would pop.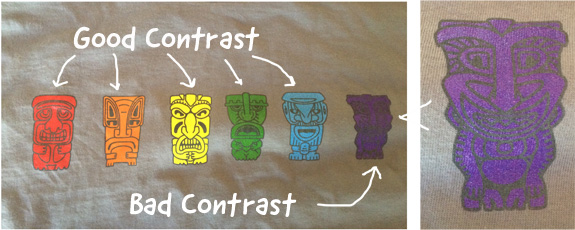 Artwork Services
We expect our clients to provide print ready images formatted to be printed.  We currently do not offer graphics services for sizing, cleaning, or altering our clients art. We are not responsible for low quality or incorrectly sized submitted art.
Gradients
We can print gradients. However, with our print technology on dark garments we print a white underbase before printing the color on top. As a result if you try and have an image with a black gradient fading to a black shirt it won't look like your provided graphic because there will be a white under base that may be visible.