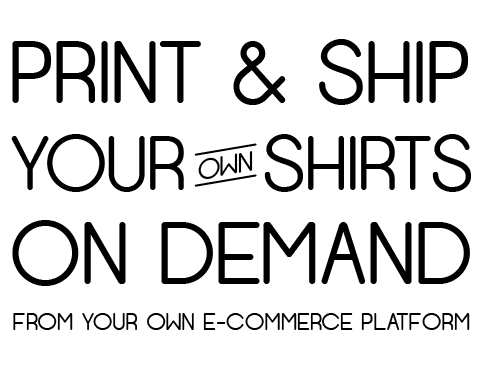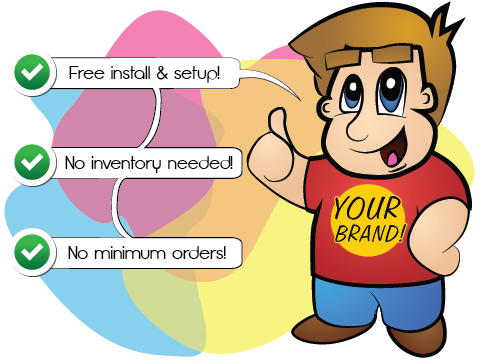 Shopify App

WooCommerce App

Storenvy App

Etsy App
Are you ready to build your brand?
Getting started with Printaura is as easy as 1-2-3! Here's how it works:
First things first - you have to install one of our awesome apps. Whether you use Shopify, WooCommerce, Storenvy or Etsy, we have an app for your e-commerce store. Installation and setup is free and easy with no risk or subscription fees.
Are you a developer? We also have an API for you to hook up additional e-commerce platforms that we don't yet have apps for.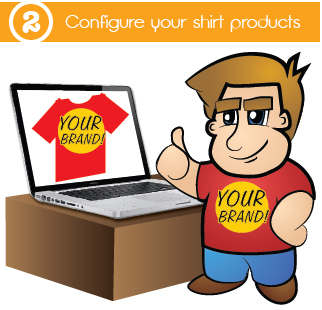 After you install the app, you can upload your shirt design! Choose from 100+ different garments in tons of colors and styles in sizes infant to 5XL. We feature high quality t-shirt mockups which you can use to add your art to shirt models or blank shirt templates.
We offer serious branding opportunities with return labels, packing slips, neck labels, and more.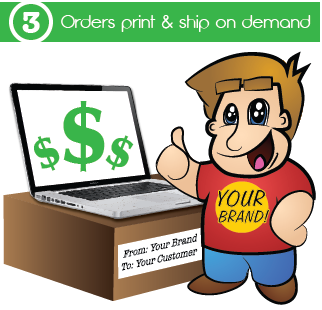 Once your customer places an order, we print their shirt on demand in full color using Direct to Garment technology with standard t-shirt prints at 12"x16" and oversized printing up to 14"x18".
Then, we ship it just about ANYWHERE in the world! Shipping prices start at $3.25. Standard order processing is 3-5 business days, with expedited processing available for 48 hour turnaround times.
Here's what folks are saying about Printaura:
Shirts Absolutely Gorgeous!


Easy to design with the mockup tool. Great selection of brands *and* more design choices than other places that I researched. Shipped quickly. Received quickly. Order was perfect. Shirts absolutely gorgeous! My relationship with Printaura begins!




Excited To Have Found Printaura!

We are just starting up our biz and have ordered a couple of our designed tees. We loved them! We are so pleased and excited to have found Printaura. Exceptional quality and service!





Great Job Printaura!


Received part 1 of my order today from Cheryl my Support Rep over at Printaura. And I will say her support has been top notch, great customer service. Can't wait for the second part of my order. Great Job - Printaura!




The BEST T-shirt Printing Service!

Printaura is seriously the BEST t-shirt printing service I've ever come across. All I have to do is punch in my customers information and Printaura does the rest (Printing and Shipping). It's a very easy system! Not only is their service great, their customer support is amazing....



An Awesome Addition To Our Business!

We are very satisfied. Customer service is responsive, and feed back from our customers is very good. They are great about getting orders printed and shipped very quickly. Printaura has been an awesome addition to our business. Highly recommended!

Matt over at Printaura is the most RESPONSIVE guy I've ever worked with - their customer service is top notch and I've never had an issue with them. Printaura has a great and intuitive platform that's easy to use, very reasonably priced (in fact, I doubt you can find a cheaper print on demand company), and has let us brand everything from the shipping label using our own logos to using their warehouse address as the return label. I highly recommend these guys. - CuteSet

Matt at Printaura is great! He takes the time to help you figure out how to size your items and create mockups, and is very patient with beginners who need explanations. I started with Printaura a year or so ago and have done lots of business with them. Their lead times seem to have improved and their customer service is great if there is a mistake made on their part. They have a bigger item selection than any of their current shopify competitors and their pricing is competitive. The only thing I wish they had was a mockup creator that was built in, but I know that costs a ton of money to develop. Overall if you need a DTG printer, you should try these guys out! - 

Campus Retro

Excellent support, nice tools and a friendly manager. -

Shihan Essense

Very good customer service. Printaura does a great job integrating with your Shopify account. Everything is user friendly which makes it easier to get started & making a successful business. Will definitely be using their service for awhile. -

Crown Royale
Ready to start selling shirts online?