Contact Us About T-Shirt Fulfillment.
Hire an Awesome T-Shirt Printer for Contract Printing.
We are a Yorkville, New York based direct to garment printing company that specializes in printing awesome full color DTG t-shirts. We have been printing Direct to Garment since 2009 and help entrepreneurs sell t-shirts. Our goal is to make the t-shirt fulfillment process easy to dropship t-shirts so you can concentrate on design and marketing. We feature Kornit printer technology and can fulfill a high volume of orders daily. Ready to get started selling t-shirts? Register with Printaura to get started today!
Our phone number is listed below but we prefer that you contact us via the contact form with very specific questions, because it allows our customer service representatives to share files and screenshots to help answer questions and resolve any issues, as well as answering our customers' inquiries in the order that they arrive.
Many common questions can be answered by walking yourself through the Getting Started page, and watching the videos. If you are ready to start selling your awesome designs on our products register for a seller account.
If you have a pricing question check out our t-shirt price wizard.
Please submit your questions about selling t-shirts and we will usually get back to you within the same business day, during our business hours.
Our hours of operation are Monday-Friday 8:00am-4:30pm EST.
---
Contact
Where we are located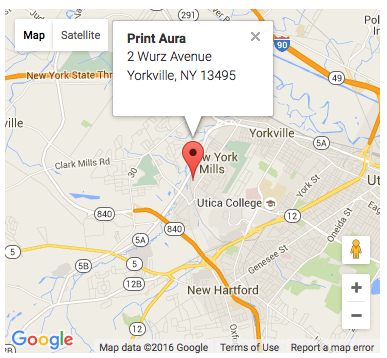 Printaura T-Shirt Fulfillment
2 Wurz Avenue
Yorkville, NY 13495
Mon-Fri 8:00am-4:30pm EST
support@printaura.com