Contact Us About T-Shirt Fulfillment.
Hire an Awesome T-Shirt Printer for Contract Printing.
We are a Yorkville, New York based direct to garment printing company that specializes in printing awesome full color DTG t-shirts. We have been printing Direct to Garment since 2009 and help entrepreneurs sell t-shirts. Our goal is to make the t-shirt fulfillment process easy to dropship t-shirts so you can concentrate on design and marketing. We feature Kornit printer technology and can fulfill a high volume of orders daily. Ready to get started selling t-shirts? Register with Print Aura to get started today!
Please submit your question about selling t-shirts and we will get back to you usually within a few hours. We do have a phone number listed below but we prefer that you contact us via the contact form with very specific questions as we get a lot of inquiries daily. Make sure you have checked out How it Works and if you have a pricing question check out our t-shirt price wizard. If you have other questions or are ready to get started you can contact us below or register for a seller account.
Where we are located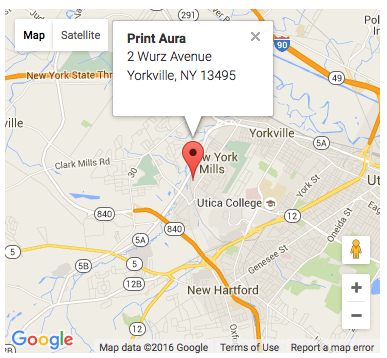 Print Aura T-Shirt Fulfillment
2 Wurz Avenue
Yorkville, NY 13495
(916) 668-0677