We currently offer the following services in addition to the white-label printing/shipping of products under your brand.
T-Shirt Neck Tag Removal
We can remove the manufacturers label or tag for $0.50 per piece. When placing your order you have the option have tags removed per order and all items for that order will have the tag removed. Please note that we can ONLY remove the brand tag and NOT the legal tag. There are typically two tags on shirts and one is for the brand and the other is for the legal info. The legal info has things the size, country of origin and a few other things. For legal reasons we can't remove both tags unless you have us apply neck label to the back that contains all the required legal info. 
Tagless Label Application
In order for us to be able to remove the legal tag in addition to the branding tag you must have certain information.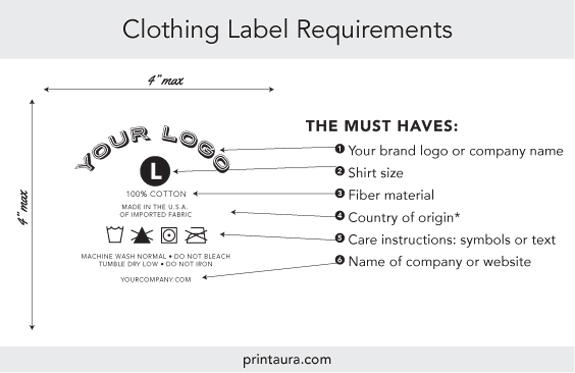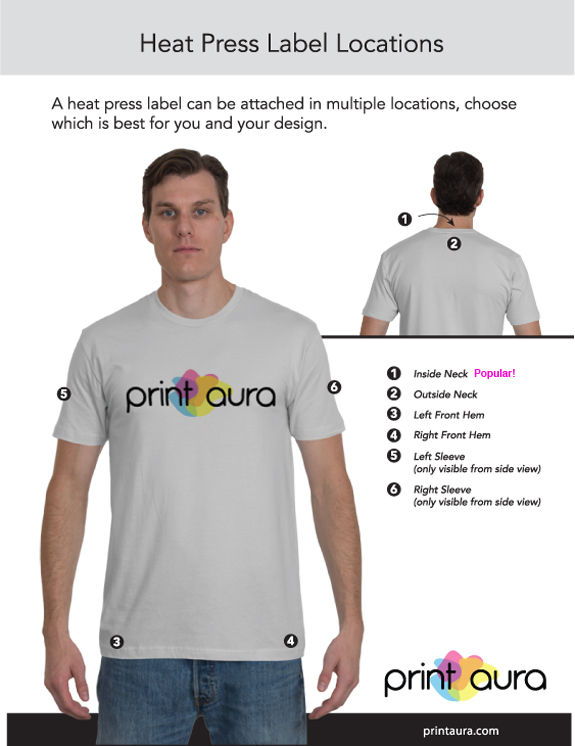 How to get labels printed
If you provide us transfers that can be applied via heat press we will add them to your shirts on individual orders. We currently do not produce the tags but we will apply them if you send them to us. You can get transfers made at the following businesses: Transfer Express. You want to ask for heat applied transfers with custom art.
Step 1: Create your labels: Create a document that is 11.25" x 14.00" and add your labels spaced so there is room to cut the labels before we press them on. Save the file as a 200 DPI jpg file. Many add 12 labels per sheet. See this guide to creating a gang sheet. You can make docs depending on Transfer Express and add more labels if you can fit them. How many and how large is up to you but most clients have labels between 2"-4". When designing your labels make sure to consider whether they will be used on light or dark garments or both and design accordingly.
Step 2: Create an account: To submit your order you need to become a "dealer" with Transfer Express which really means create an account.
Step 3: Upload your artwork and submit your custom order: Once you have an account you can upload your art and place a custom order.
There is a minimum of 10 sheets when ordering custom t-shirt labels. The prices are roughly $10.53 per sheet for one a one color transfer. So for the minimum 10 sheets your cost is about  $105.30 plus about $12 shipping. So you are looking at about $1.00 a tag and between tag removal and tag application another $1, so doing this type of branding costs about $2 per garment.
If you want additional colors the prices go like: $18.14 per sheet for two colors, $25.72 a sheet for three colors and the price continues to go up for more colors.Please keep in mind that there are lots of companies who can create the labels for you so feel free to shop around.
Step 4: Send us the transfers
Printaura
2 Wurz Avenue
Yorkville, NY 13495
Step 5: When you place your order select "Tag Removal" and "Apply Tag" and we will press on your labels to your orders. If you use an app or the API you can set the defaults for label application and removal at Your Brand.
You will then be prompted to select the default location of the heat press labels. We can currently apply the labels to the following locations:
Inside Neck
Outside Neck
Left Front Hem
Right Front Hem
Left Sleeve
Right Sleeve
Packing Slips
We auto-generate packing slips with your logo and a custom message. You can set up your packing slips here. If you are placing a manually order you can use the auto generated packing slips or you can upload 8.5"x11" packing slips in PDF forms that we will print out and include in your packages at no additional charge.
Hang Tags
If you provide us hang tags that can be applied we can add them to your garments for a small charge. All hang tags will be applied by hang tag gun. To start using this service you must send us the hang tags and receive confirmation we have received them.
Individual Bagging
We can put each shirt into its own poly bag and apply a size sticker on the outside upon request. There is a small fee for this service. Visit Your Brand to configure this service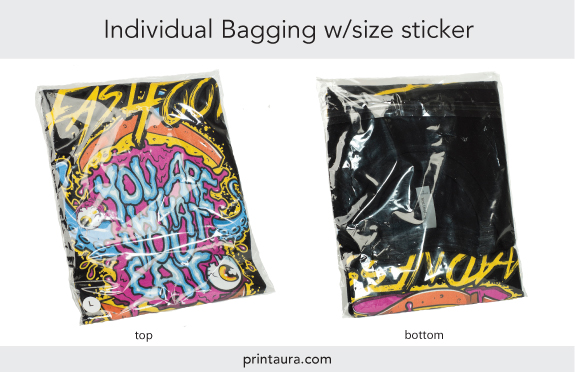 Custom Packaging
We can use your custom shipping packaging upon request. Contact us to get approval to use this feature.
Return Labels
As part of our branding service we can include your brand on the return label. You can choose to use your own address or ours. Below is an example of what the label looks like. Configure your label information on Your Brand.